Field Evaluation Services
External Link
ULC's Field Evaluation Services is intended to provide the means for evaluating products in the field and, if found in compliance with the requirements of the Model Code "SPE-1000" or the Canadian Gas Code, such products may be marked with the program specific ULC Field Evaluation (FE) or (FE-G) label. The Model Code contains requirements that address the minimum construction, marking, and test requirements that are consistent with maintaining the level of safety for electrical products and gas-fired appliances & equipment so as not to present an undue hazard to the public or to property.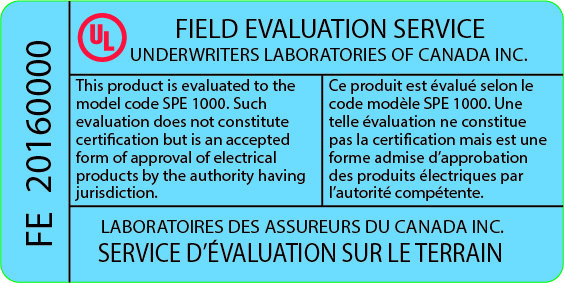 FE Label for Electrical Products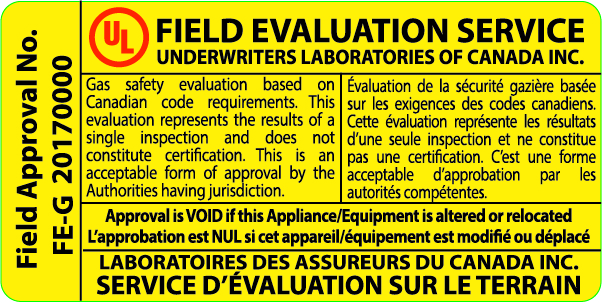 FE Label for Gas-Fired Appliances & Equipment
You may choose an FE for one or more of the following reasons:
The equipment has already been shipped to, or installed in, the final destination
Limited quantities or batches of equipment
Ensuring the product complies with the essential requirements before submitting it for final certification (applies only for SPE-1000)
Time is critical and certification is not practical
Field Evaluation of electrical products or gas-fired appliances & equipment is not equivalent to product certification. ULC is accredited by the Standards Council of Canada (SCC) as a Third Party Inspection Body (IB) to the requirements of ISO 17020 and SCC RG-IBAP. As such our services are recognized by the provincial and territorial authorities in Canada.
A formal Appeals Process is available to applicants to address questions concerning interpretations and decisions made by ULC concerning evaluated products. For cases in which an evaluation by ULC falls under Standards Council of Canada's inspection body accreditation, the final level of applicant appeal, in disputes with ULC regarding conformance with accreditation criteria, shall be SCC. An appeal can be initiated by contacting Customer Service or the engineer that was involved with the project. A Product Incident Report system is also available for reporting safety-related problems with evaluated products.
Other Services:
ULC and UL offer a variety of services, from field engineering and technical consulting to quality certifications and product listing verifications. Whatever your requirements are, our friendly staff will help you complete a product certification procedure quickly and easily. Please contact us at 1.800.463.6852 or Info.Canada@ul.com for further information.