New Client Welcome and Resources
External Link
—
Welcome to the UL team!
At UL, we strive to provide you with the best services and resources to set you up for success. To call us directly, please access our locations page. 
We'll help you get started in five easy steps!
---
✓ Learn about our product certification process
Although individual projects vary, the typical product evaluation for the UL Mark is a collaborative process. Learn about the lifecycle of our certification for a new product, from quote to testing to follow up. If you want to upgrade your existing products UL Certification, let our dedicated team help you.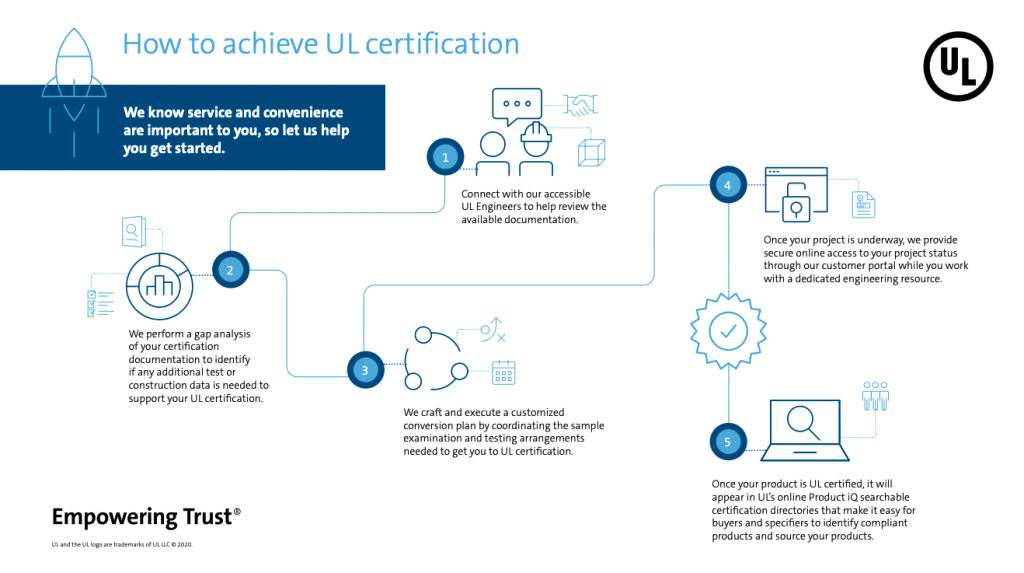 ---
✓ Set up your MyUL™ portal account
Visit MyUL today to set up your account in this easy-to-use portal for viewing your quotes, orders, documents, samples, locations and variation notices. Please note you will need your Party Site Number to create your account.
Use a secure login to access your files, review projects, and make informed decisions that will positively impact your bottom line.
Increase your speed-to-market by keeping your whole team informed on where your UL projects are and receive notifications about your UL activity.
Bookmark other UL websites with the "favorite" feature.
---
✓ Set up your Product iQ™ account
With your free access to Product iQ, our certification database, you can identify safer, more compliant products and verify certifications for thousands of products and components.
You can also use it to promote your products to potential buyers, including thousands of regulatory authorities, building owners, and insurance companies.
Access trusted UL guide information in a mobile-friendly interface
Utilize advanced search features by product or company
Search for alternative products
Personalize account searches and tags to save time and work more efficiently
Receive notices and updates to searches or files
Get proof of compliance with easily printed certification letters
---
✓ Explore UL Standards
In our UL Standards and Guidelines catalog, you can browse the standards or search by number or keyword, e.g., lighting, for relevant standards.
Stay informed on our standards with an overview or see the latest announcements.
---
✓ Visit UL Marks and Labels
Visit our Marks and Labels site for guidance on UL Listing and Classification Marks, standard labels and other badges for all product types. Here, you'll discover:
The different UL Marks and their significance
Processes for designing and ordering UL Listing and Classification Marks
Guidelines for promoting the UL Mark
Downloadable UL Marks
Enhanced UL Certification Marks
Our Label Center allows you to quickly and easily order labels (standard or custom).
Need more information? Visit our UL Knowledge Solutions site for free training courses.
---
Looking ahead to follow-up services
Once your products are slated for UL certification, our team will work with you to arrange your initial product inspection and follow-up services. Learn more about customized on-site support and training for supporting your UL Mark.
Manufacturers receive a dedicated resource to help prepare for their first visit from UL's Field Engineering Service Program, FUStart.