UL Canada – A Great Place to Work
External Link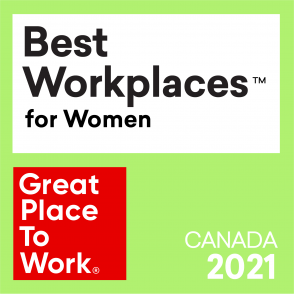 We are proud to announce that we have been named to the 2021 list of Best Workplaces™ for Women.  Based on direct feedback, 94% of employees agree that people are treated fairly, regardless of their gender.
In addition, UL in Canada was previously certified as one of Canada's Great Places to Work®.
According to Great Place to Work, "a great workplace is about the level of trust that employees experience in their leaders, the level of pride they have in their jobs, and the extent to which they enjoy their colleagues."
UL in Canada is honored that our staff feel, through their survey responses, that this recognition is deserved.  UL, as a global organization, fosters a workplace that encourages staff to dream big, test the limits of what they can do, learn from mistakes and get better every day. Growth and development are part of our DNA.
"This certification is a testament to our staff in Canada. Our organization consistently demonstrates their entrepreneurial spirit and desire to go over and above to make this team successful and in the past few months this has never been more evident," said Joe Hosey, vice president and general manager, UL Canada. "The diversity of our team defines our culture – something we draw on in every interaction with each other and when providing exceptional service to our customers.  We have doubled our growth in the past five years and I have no doubt that because of our staff we will continue to see the same results in the next five years."
UL is a place that offers big growth possibilities. We encourage pushing boundaries, active curiosity and asking the tough questions — both in your day-to-day life and as you grow your career with us. We know we'll get great results this way, and you'll be happier too, which is a win-win in our book.
If you're interested in joining UL, please visit our Careers page.