ULC Standards' Mark Ramlochan Wins SCC's 2016 Young Leader Award
External Link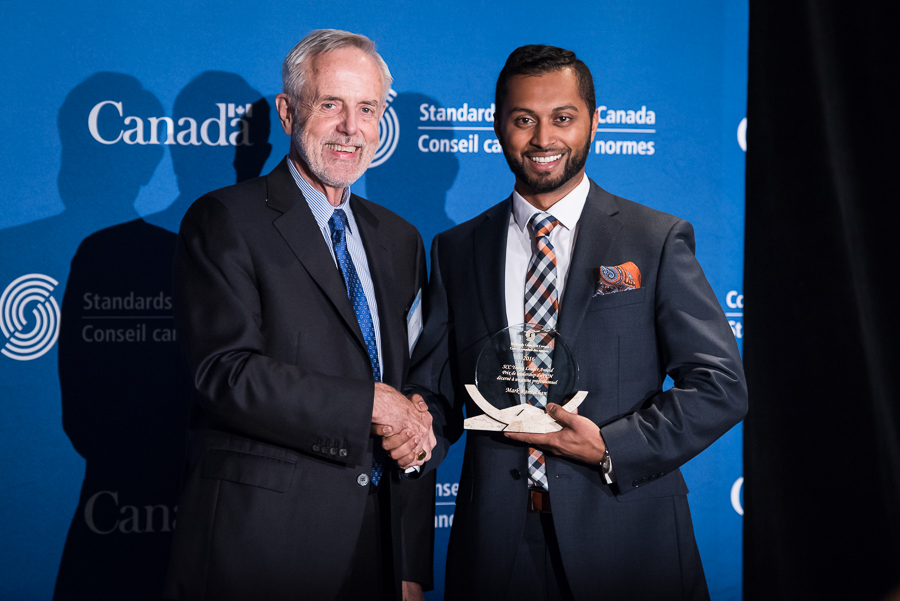 In the picture: John Walter, SCC CEO, and Mark Ramlochan, ULC Standards
Mark Ramlochan, Project Manager for ULC Standards, received the 2016 Young Leader Award organized by the Standards Council of Canada (SCC). This Award recognizes the leaders of tomorrow by honoring an engaged and active participant of the standardization network who is under the age of 40.
Every two years, the Standards Council of Canada (SCC) presents Canada's national awards in standardization. These awards recognize the commitment of individuals, organizations and committees who dedicate their time and expertise in support of Canada's national standardization network.
As Project Manager for ULC Standards, Mark Ramlochan contributes valuable expertise on standards-related matters in Canada and abroad. He has effectively managed dozens of Canadian standards development and international mirror committees, has represented the needs of Canadians in drafting policy for the Society of Standards Professionals (SES), and continuously seeks to further his knowledge in support of the technical committees he manages. Mark Ramlochan is always strategic in his focus and is able to effectively balance organization and humour while carrying out his diplomatic functions as technical committee manager.
Mark Ramlochan holds a Bachelor of Mechanical Engineering from Carleton University. He is a licensed Project Management Professional by the Project Management Institute (PMI) and Associate Standards Professional (AStd) by SES. Mark Ramlochan currently serves as President of the National Capital Region Chapter of the Society of Fire Protection Engineers.
Click HERE to view the announcement on SCC website for more details.